Shadow of Israphel Part 18: Swampy Away!
Comments

3
7,760pages on
this wiki
Please be aware that these Episode Summaries contain SPOILERS.
"Shadow of Israphel" Part 18: Swampy Away! is the eighteenth episode of Season 3. It was uploaded April 6, 2011. The video description is identical to part 17, saying: With a new quest - to find pieces of Karpath's legendary map - Simon and Lewis return to Minecraftia and resume their adventures!
Plot & Summary
Edit
Xephos and Honeydew have been tasked with Swampy Bogbeard to find a natural way up to his tower, a remnant of the Mistral City walkways. Honeydew crafts a surprisingly elegant solution out of saplings, bone meal, dirt, and ladders. Once at the top, Swampy tells them the location of the other three quadrants of Karpath's Map: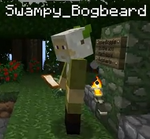 The first piece lies back through
Skull Pass
. On their way through the
Carnivale Del Banjo
, Honeydew uses his newly learned tree magic to encase
Strongman Bruno
in a tree trunk. When inspecting the
Verigan's Hold
archery range, they discover a secret, narrow bootlegger's passage to
BBQ Bay
, the first location mentioned by Swampy. They emerge in the middle of the night to overhear an argument between
Jock Fireblast
,
Angus Eyeless
, and
Grimjaw Slugface
. Honeydew mentions that Grimjaw is a very sinister name, and indeed the argument seems to involve Grimjaw being infected by the
Taint of Israphel
.
Characters Appearing
Edit
Xephos, Honeydew, Swampy Bogbeard, Strongman Bruno, Jock Fireblast, Angus Eyeless, Grimjaw Slugface

As an Easter Egg, Mr Banjo rides a pig through the background of a scene.