Area 11
YouTube Channel
http://youtube.com/Area11Band
Gender
Male

Nationality

Mostly English
Current Member?
Yes
Member Since
2011
Working at YogTowers?
Only two members: Tom Clarke and Alex Parvis.
Occupation
Gaijin-rock Band, Youtubers
Area 11 are a Bristol-based rock band, who are combining Western rock with traditions of Eastern music to form a Gaijin Rock band. Taking their cue from the music found in popular Japanese animation, the band mix punishing lead guitar lines, synth hooks and soaring vocals to deliver a polished and upbeat sound, which is both familiar and unique.
The official description from their site www.area-11.co.uk
Area 11 are also known for co-operating with the Yogscast, mainly by composing music for them. The most famous piece is the Yogscast's outro music, which is based on a tune of Area 11's song Euphemia. Upon the release of their first album, the outro was put on the end of their song Vectors.
Sparkles* was also a competitor in the Survival Games, and Crown Conquest (along with Parv). Sparkles* and Parv are also the only ones working at YogTowers, and it has been noted by Martyn that the rest of the band visits them there often.
Along side their music Area 11 also post playthroughs of games and different comedy sketches on their Youtube channel.
Sparks told the people in Radio Sparkles* that the band was already working on new music and they had 2 bars of a new song already. He also explained that the band hope to bring back songs that were cut from All The Lights in the Sky (album) such as Human is Dead;Mismatch and Homunculus.
Area 11 formed on October 4th 2010. They decided on the name 'Area 11' after they wrote Euphemia on October 8th 2010.
In December 2012, Area 11 made a song called Minecraft Christmas to help raise funds for the Yogscast Honey Drive 2012 fundraiser.
On January 31st 2013 Area 11 released their first album All The Lights in the Sky (album). This finished at 75th in the UK album charts and 10th in the UKs Rock album charts.
In April 2013, Area 11 released their single
Shi no Barado
, featuring vocalist
Beckii Cruel
, taken from their debut album
All The Lights in the Sky (album)
. This single charted at number 12 in the Indie charts and number 1 on the Indie breakers charts.
[1]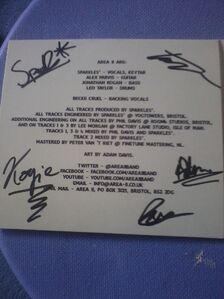 250 hard copy's of the single were made, some were sent to magazines or blogs to be reviewed. The rest were sold at Area 11s gigs along with limited edition Shi No Barado t-shirts. After Area 11 finished their gigs they then sold the remaining CDs and t-shirts on their website which sold out in under two hours. When buying these CDs Elevens were given the chance to request for it to be signed by the band and possibly
Adam Davis
and/or
Beckii Cruel
.This can be seen in the picture to the right.
Along side their realise of Shi No Barado, Area 11 did a Minecraft series called Gigacraft which has many links to Digital Haunt. The band released a new single entitled "GO! Fighting Action Power!" on the Sunday of May 12th, 2013. This single was made for the new cartoon 'Bravoman' and can be seen here[2]. This can also be seen live here.
On September 12th 2013, Sparkles announced that Area 11 were going to release All the Lights in the Sky as a physical album, with around about 1000 copies being made. Sparkles invited fans to be a part of the album by recording parts for Heaven Piercing Giga-Drill and Bōsōzoku Symphonic - All the Lights in the Sky. By the deadline the fans recordings had to be in, Area 11 had received 663 submissions that Sparkles then had to put together for the track. The announcement can be viewed here.
8th of October 2013 marks 3 years of Area 11 being a band as this was the date they decided apon a name and wrote Euphemia together. To mark this day the band re-released the original Knightmare/Frame(2012)  which came with 3 b-sides; Knightmare/Frame instrumental, a demo of Legendary Sannin and Sparkles* Euphemia Trance Remix.
On 11/11/13 at 11:11pm GMT Area 11 re-launched their site . On the site featured a 45 second trailer for what is still unknown. It is rumoured to be the release of the physical version of the album All The Lights In The Sky, as in the teaser video is says 'All The Lights In The Sky - Complete'.
On the 15/11/13 Area 11 confirmed on their website that they would be releasing Heaven Piercing Giga Drill as their last single from All The Lights In The Sky to say goodbye to the album, on the 25/11/13. This had been in the works for a while since asking fans to be part of the new song. It was then released a day earlier (24/11/13) with a music video. Along with the new single they released a B-Side of a full length version of All The Lights In The Sky and an off-vocal track of Heaven-Piercing Giga Drill. 
Former Members
Edit
Luke Owens - Guitar, Backing Vocals
Tim Yearsley - Bass
Instruments
Edit
Band Collaborations
Edit
Kogie works on a lot of different sketches for the Area 11 channel which invovles all of the band include Double Leg Cross, Riddles and Cereal.
With Other Yogscast Members
Edit
They played a series of Worms Revolution which features the band and guests Martyn and Duncan.
Sparkles* and Sjin have done a playthrough of Day of the Tentacle.
Solo Series
Edit
Parv has also done a playthrough of the Witcher 2.
Sparkles* has also done a playthrough of the very first Tomb Raider game.
Leo also started a playthrough of Prince of Persia
Influences
Edit
Area 11s music is influenced by many different Animes and these include:
Some of Area 11s musical influences include:
On Friday the 19th of July, Area 11 streamed a live gig from justjamit.com. Their set list included System;Start , Vectors , Go!! Fighting Action Power , Knightmare/Frame , a cover of Haruka Kanata , The Strays , Euphemia , Shi No Barado with Beckii and finishing with Heaven Piercing Giga Drill.
Euphemia became the outro theme to the Yogscast YouTube channel 'BlueXephos' after a copy of Blackline EP came into Lewis Brindley's hands.
Many other sections of their songs appear on different Yogscast videos, such as; Bōsōzoku Symphonic in the Reverse World Animation, AniMay and some Top 5 videos.
A lot of the band's work is references to anime. For example, the songs Euphemia and Knightmare/Frame, the band name Area 11, or Sparkles*' name on Facebook (Sparkles li Britannia) are all references to the anime Code Geass: Lelouch of the Rebellion.
Sparkles* revealed his real name on one of the Christmas Livestreams.
Parvis was the first person to reveal Sparkles* real name in the first installment of '11 minutes with Area 11'.
Luke Owens and Tim Yearsley are past members of Area 11.
Someone called Lee designed the Area 11 digital eye logo.
All of Area 11's links can be found here .