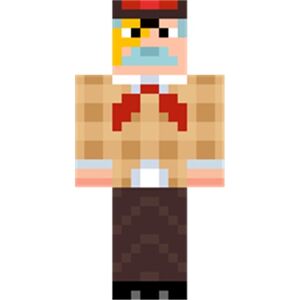 Bertie
is a good friend and a companion of
Gamechap
. He appears in all of Gamechap's videos. His trademark items are:
His Glistening Melon (Which, apparently, when eaten gives a super-speed effect)
TNT
Levers
Other Melons
He is a walking disaster; famous for destroying The canyon village or Gamechap and Bertie's server house in many Minecraft mod videos that Gamechap has done. Bertie likes sheep, coconuts, explosions, whiskey and cigars. Ironically, on the Quest for the Golden Monocle he wasn't even aware how to set off TNT; now he is quite the... Master of Explosions. Bertie also has quite unusual singing talents.
"That's rather spiffing!"
"Hair Lair Their!"
"EEEEEEEEEEEEEEEE!"
"Mr. Mayorrrrrrrr!!!"
"It's nothing to do with me!"
"I SAY!"
"LIKE A SIR!!!"
It is often thought by the fans that Bertie is a Creeper in disguise because of his love of TNT and how often he 'accidentally' destroys villages or GameChap's property. Some evidence has been shown in their mod reviews, such as Bertie hissing and setting off pressure plates that can only be triggered by creepers.
Bertie is also able to destroy bedrock using TNT, as seen in a few videos.
He first appeared with the Yogscast alongside Gamechap in The Walls, a PVP map.
He is considered to be the Gamechap worlds equivalent to Simon Lane, with his explosive shenanigans, meaning the two coming face to face could cause the potential destruction of minecraftia.
Bertie also does voices, another trait he shares with Simon.
In mod spotlights, their videos tend to end in an explosion caused by Bertie and Gamechap chasing him.