Cassandra (pt II) was a song on Area 11's All The Lights in the Sky album. The song was also used for Yogscast's Christmas Livestream Best Bits Highlights Reel.
Courtesy of: Sparkles*
Still, although it doesn't really matter now,
I can't believe it; that I got so far
I got so far behind, my love
You use me and I use you
I; your savior, you; my muse
The best friend that you've been to me
But I wanna be your enemy
(I wanna be your enemy)
You stare at me with omnivorous eyes
You want a reaction, want a reaction
You wear a red dress when you're in a bullfight
You're drawing attention to your double life
In dreams I'm coming to find you
And when I wake I want anyone else
Cause I don't love you
It's what I'm telling myself
(Chorus)
This was the moment, this was the place
This was the night that everything changed
I'm hiding from you
Hiding from you
Hiding from you
Cause we are the same
We're not just numbers, we are alive
A digital haunt in an analogue life
I'm hiding from you
Hiding from you
Hiding inside you
Cause we are the same
(chorus end)
Wait, just wait for me and I'll come around
Pack up, log on and we'll leave this town
And we'll run around and live in secret worlds
And say our secret words
And I'm still encrypted, I am a machine
The ego behind this computer screen
My best friend that I've never seen
I turn you into my enemy
"No it's all in my mind" I feel
I should save myself, before this gets too real
(Chorus)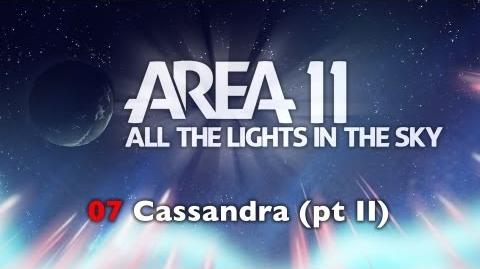 There is most likely a member of Area 11 called Cassandra, and Cassandra is also mentioned in the song System;Start.
It is rumored that Cassandra is the girl on the ATLITS cover.
Leo Taylor stated that Cassandra is the only song on ATLITS that isn't based on an anime.
Ad blocker interference detected!
Wikia is a free-to-use site that makes money from advertising. We have a modified experience for viewers using ad blockers

Wikia is not accessible if you've made further modifications. Remove the custom ad blocker rule(s) and the page will load as expected.