Cleanup Required
The testificates are off on their lunch break and it's up to you to clean up their mess! This article is a bit disorganised or messy. The testificates would love it if you can edit this page to make it better.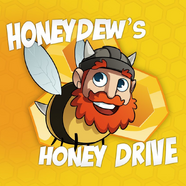 The 2012 Christmas Livestreams, also nicknamed Honeydew's Honey Drive, were the second annual charity livestreams. On November 30, 2012, it was revealed via social media that the streams would be returning. On December 1, 2012, Simon and Lewis put out an official announcement video on the BlueXephos channel confirming the return of the livestreams. The livestreams started everyday at 6:00 pm GMT.
The aim of this year's livestreams was to support Oxfam with two projects: 'Plan Bee', which provides training and workshops for the manufacture of modern beekeeping equipment for Ethiopian families, and the '365 Emergency Fund', a project dedicated to a relief effort aiding emergency situations worldwide. The money was split between each project where the first £10,000 went to 'Plan Bee', and the remaining to '365 Emergency Fund'.
Donations were received via JustGiving. In addition to donations, all Twitch.tv revenue from advertising and subscriptions, and revenue earned from the 2012 Christmas album, Yogscast Christmas 2012, was donated to the drive as well. The Yogscast were again nominated for JustGiving's Most Popular Fundraiser of 2013, and received a Special Recognition Award at the JustGiving Awards ceremony.
On Christmas day, after surpassing the £60,000 goal, Simon & Lewis uploaded a video in which Santa introduced Lewis, who was wearing a sexy bee costume as promised.
Over the course of the 2012 livestreams, a total of £210,532.56 ($328,680.73) was raised by 13,407 charitable people. The total amount donated, including Yogscast revenue, was £240,565.25 ($365,835.76).[1]
2012 Event Guide
Edit
| Date | Event |
| --- | --- |
| Saturday 1st | Setting up for this year! |
| Sunday 2nd | Duncan & Lewis |
| Monday 3rd | Sjin, Duncan & Simon playing a mix of random stuff! |
| Tuesday 4th | Martyn & Strippin - New Super Mario Bros. U |
| Wednesday 5th | Hannah & Duncan |
| Thursday 6th | Duncan, Lewis & Sips - OpenTTD |
| Friday 7th | Lewis, Simon & Peter Molyneux |
| Saturday 8th | Live from Edinburgh with Nilesy |
| Sunday 9th | Simon and Lewis playing Minecraft with Special Guests Youtube.com/YouAlwaysWin |
| Monday 10th | Hat Films |
| Tuesday 11th | Hannah & Friends |
| Wednesday 12th | The Dream Stream |
| Thursday 13th | An Evening with Rythian and Zoey |
| Friday 14th | Sjin & Lewis |
| Saturday 15th | Lewis & Simon - Minecraft |
| Sunday 16th | Lewis, Duncan & Sjin - Hangover Simulator 2012 |
| Monday 17th | Sips & Sjin - Tekkit Live |
| Tuesday 18th | Hannah & Mr Owl |
| Wednesday 19th | Martyn, Strippin & Sparkles*- DREAM TEAM STREAM! |
| Thursday 20th | A Cynical Livestream with Totalbiscuit & Special TGS Guests |
| Friday 21st | Turps, Sparkles* & Martyn - Just Dance 4 |
| Saturday 22nd | PROTESSIONAL STREM 2: EVEN PROTESSIONALER with Nilesy, Panda and some Dutch noob |
| Sunday 23rd | Athene and Dem Gamez |
| Monday 24th | Turps and Mike present The Incredible Livestream of Amazing Awesomeness |
| Wednesday 26th | Boxing Day Batman Bonanza |
| Thursday 27th | Simon, Turps & Sparkles* |
| Friday 28th | Lewis & Simon |
| Saturday 29th | Ridgedog bring you The Kerbal Space program |
| Sunday 30th | Lewis, Simon & Sparkles* |
| Monday 31st | Rythian & Zoey's New Year Countdown |
Daily Donation Count
Edit
| Date | Total Donations | Change in Total Donations |
| --- | --- | --- |
| Saturday 1st | $21,000.00 | $21,000.00 |
| Sunday 2nd | $40,000.00 | $19,000.00 |
| Monday 3rd | $53,000.00 | $13,000.00 |
| Tuesday 4th | $61,500.00 | $8,500.00 |
| Wednesday 5th | $68,500.00 | $7,000.00 |
| Thursday 6th | $78,500.00 | $10,000.00 |
| Friday 7th | $86,500.00 | $8,000.00 |
| Saturday 8th | $108,500.00 | $22,000.00 |
| Sunday 9th | $115,500.00 | $7,000.00 |
| Monday 10th | $122,000.00 | $6,500.00 |
| Tuesday 11th | $154,000.00 | $32,000.00 |
| Wednesday 12th | $166,500.00 | $12,500.00 |
| Thursday 13th | $180,500.00 | $14,000.00 |
| Friday 14th | $198,500.00 | $18,000.00 |
| Saturday 15th | $206,500.00 | $8,000.00 |
| Sunday 16th | $213,000.00 | $6,500.00 |
| Monday 17th | $221,500.00 | $8,500.00 |
| Tuesday 18th | $232,500.00 | $11,000.00 |
| Wednesday 19th | $236,500.00 | $4,000.00 |
| Thursday 20th | $244,000.00 | $7,500.00 |
| Friday 21st | $252,500.00 | $8,500.00 |
| Saturday 22nd | $267,000.00 | $14,500.00 |
| Sunday 23rd | $271,500.00 | $4,500.00 |
| Monday 24th | $276,000.00 | $4,500.00 |
| Tuesday 25th | $276,000.00 | $0.00 |
| Wednesday 26th | $277,000.00 | $1,000.00 |
| Thursday 27th | $282,500.00 | $5,500.00 |
| Friday 28th | $289,500.00 | $7,000.00 |
| Saturday 29th | $293,000.00 | $3,500.00 |
| Sunday 30th | $304,000.00 | $11,000.00 |
| Monday 31st | $324,500.00 | $20,500.00 |
References
Edit