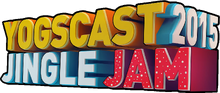 The 2015 Christmas Livestreams, nicknamed Yogscast Jingle Jam 2015, were the fifth annual charity livestreams. On November 18, 2015, Lewis announced during a vlog on the main channel that the livestreams would be returning in 2015. The first 13 days of the schedule were released on November 27, 2015. On December 1, 2015, The official announcement video was uploaded to the main channel. The warm-up streams started around 2pm GMT, then the main streams started at 5pm daily, with a change of host occurring at 8pm GMT.
Donations were handled through Humble Bundle, where donators received games for their contributions. A $5 donation gave two exclusive TF2 items, Xephos' Philanthropic Physiognomy, and Honeydew's Charitable Countenance. A $25 donation gave 21 different games and DLC. All revenue earned from Twitch.tv advertising and subscriptions, Hat Films charity album Population: You, and Christmas jumpers was donated to the Jingle Jam as well.
All proceeds went toward benefiting Cancer Research UK, Fauna & Flora International, MSF/Doctors Without Borders, SpecialEffect, Oxfam, Games Aid and the Mental Health Foundation. Donators could choose how they wanted to split their money between the seven charities. 
Over the course of the 2015 Christmas Livestreams, a grand total of $982,454.05 was donated from 40,201 donators. The top donators were Tom Bailey & Sinescape, both donating $10,000.00. Altogether, a sum of over $1,052,881.48 was raised by donators and the Yogscast revenue.
2015 Event Guide
Edit
 Date
2:00pm – 5:00pm
5:00pm – 8:00pm
8:00pm – 11:00pm
11:00pm -
Tuesday 1st
Warmup Stream with Turps!
Simon and Lewis play Fallout 4!
Lewis, Sjin and Duncan play OpenTTD
Wednesday 2nd
Sjin's Big Stream!
Boogie2988's Stream! (5am - 7am)
Thursday 3rd
Warmup Stream with Turps!
Simon and Lewis' Adventure Book w/ Teutron
Friday 4th
Warmup Stream with Will Strife!
Hat Films' Musical Stream
Zack Scott
Saturday 5th

MumboJumbo and Hermitcraft

Civ 5 Live! (Lewis, Duncan, Sjin, Pyrion, Rythian and Zoey!)
Overwatch w/ Martyn
Duck Game
Sunday 6th
JackFrags
Sims Sunday w/ Zoey and Fiona
#TeamSweden vs #TeamScotland
AntVenom's Stream!
Monday 7th

Nilesy, Zylus and Panda

Sjin's Big Stream
Tuesday 8th
ARK w/ Sjin, Lewis and Duncan
Fright Night w/ Kim, Hannah and Chrissa
Wednesday 9th
Turps
Turps, Sips, and Simon play Just Cause 3
GTA with CaptainSparklez
Swiftor's Stream!
Thursday 10th
Hat Films' D&D Adventure w/ Nina-Serena and SherlockHulmes
Friday 11th
Turps Warmup Stream
Martyn's Mario Maker Madness
Karaoke Night #1
Will Strife and Dave Fayram
Saturday 12th
CaffCast
Eurogamer Video Team
GMod w/ Seananners
Team Nerd Fusion
Sunday 13th
Sims Sunday w/ Zoey and Fiona
Daltos, Rythian, Zylus and others
teamWHEAT Holiday Mashup
Monday 14th

Lewis and Sjin

Nilesy, Zylus and Panda
Tuesday 15th
Lewis, Sjin and Duncan
Kim's Wii Wii Party!
Wednesday 16th
Lewis and Sjin play Wildstar (4pm start)
Hannah's Stocking Fillers
Tekkit w/ Lewis, Simon and Duncan
Game Grumps!
Thursday 17th
PlayStation Access and Outside Xbox
Olli43

Thinknooodles

Ellohime
Friday 18th
Zylus, Ravs and Tom play Total War
Martyn's Festive Friday w/ Squiddy and Ash
Karaoke Night #2
Will Strife and Dave Fayram
Saturday 19th

Lewis & Pyrion play Civ and Dota

Civ 5 - Part 1 - Part 2 - Part 3

Sunday 20th
RPGMinx
Dream Team Stream
Monday 21st
Lewis/Turps Warmup Stream
Pulsar
YammyXOX
Tuesday 22nd
Lewis/Turps Warmup Stream

Trouble and Strife w/ Kim and Will

Hakimon w/ Hannah, Kim & Simon

JoshOG

Wednesday 23rd
Mark & Nina
Lewis' Dad
Xbox ON with Ellen Rose & Benny Central
Thursday 24th
Festive FiZone Finale (6pm start)
Friday 25th
MoonQuest Series Re-Run
Saturday 26th
Hole Diggers Series Re-Run
Sunday 27th
Little Inferno Re-Run (2am start)
Vadact & Friends Build Things
Monday 28th
CaffCast 2
TOBUSCUS Guest Stream!
Tuesday 29th
Sherlock's Sword Coast Adventure!
Ben & Tom's Jerk Session
Pyrion Flax - DOTA Madness
teamWHEAT
Wednesday 30th
Mario Maker w/ Witwix
Board Game Stream
Thursday 31st
The Stream Mods Takeover
Games & DLC
Edit
Guns of Icarus Online Collector's Edition
Chivalry: Medieval Warfare
DEFCON
Medieval II: Total War
Garry's Mod
Block N Load - Platinum Pack DLC
Ace of Spades: Battle Builder
Chronicle: RuneScape Legends - Closed Beta Key
Gunpoint
Torchlight II
Tango Fiesta
DiscStorm
The Weaponographist
Armored Warfare T-62 Main Battle Tank (and Premium Time)
Elite Dangerous Yogscast Cobra Mk III Paint Job skin
Total War Arena
Wildstar: Fateful Fortune Starter Bundle
Gang Beasts - Yogscast Avatars
Awesomenaughts + Honeydew and Demon Skolldir Skins
Rust
Guild Wars 2: Heroic Edition
Daily Donation Count
Edit
|  Date | Total Donations | Change in Total Donations |
| --- | --- | --- |
| Tuesday 1st | $100,779.31 | $100,779.31 |
| Wednesday 2nd | $128,145.00 | $27,365.69 |
| Thursday 3rd | $161,759.00 | $33,614.00 |
| Friday 4th | $223,185.15 | $61,426.15 |
| Saturday 5th | $265,543.35 | $42,358.20 |
| Sunday 6th | $294,788.40 | $29,245.05 |
| Monday 7th | $336,489.02 | $41,700.62 |
| Tuesday 8th | $402,574.01 | $66,084.99 |
| Wednesday 9th | $446,411.15 | $43,837.14 |
| Thursday 10th | $482,166.00 | $35,754.85 |
| Friday 11th | $525,623.00 | $43,457.00 |
| Saturday 12th | $546,976.00 | $21,353.00 |
| Sunday 13th | $564,273.66 | $17,297.66 |
| Monday 14th | $600,935.94 | $36,662.28 |
| Tuesday 15th | $629,165.03 | $28,229.09 |
| Wednesday 16th | $650,496.61 | $21,331.58 |
| Thursday 17th | $658,213.47 | $7,716.86 |
| Friday 18th | $703,742.95 | $45,529.48 |
| Saturday 19th | $722,112.00 | $18,369.05 |
| Sunday 20th | $746,105.70 | $23,993.70 |
| Monday 21st | $761,562.88 | $15,457.18 |
| Tuesday 22nd | $792,036.93 | $30,474.05 |
| Wednesday 23rd | $809,163.19 | $17,126.26 |
| Thursday 24th | $862,672.36 | $53,509.17 |
| Friday 25th | $869,673.98 | $7,001.62 |
| Saturday 26th | $880,612.67 | $10,938.69 |
| Sunday 27th | $889,513.62 | $8,900.95 |
| Monday 28th | $906,714.87 | $17,201.25 |
| Tuesday 29th | $917,295.40 | $10,580.53 |
| Wednesday 30th | $936,579.47 | $19,284.07 |
| Thursday 31st | $982,432.05 | $45,852.58 |