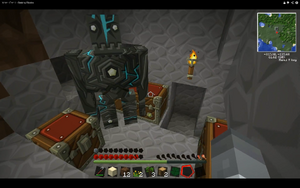 Comrade
is an iron golem found by
Duncan
and
Lewis
in
The Bunker
in
Voltz
.
Comrade was found in a stone/concrete cave under The Bunker. It seems to have been made to protect 3 chests found in the cave, the contents of which has aided Duncan and Lewis get a head start in The Voltz Cold War.
He was named Comrade because, based after the belief that the base above it was a Russian Soviet Bunker, they believed that he was indeed a "comrade" of the Russians.
His history and how he came to be inside the cave is unknown, but sources say that he was made by a group of Russians during the Cold War, to guard the base from the Americans. After the end of the Cold War, and the Russians and the Americans got drunk together, the bunker was abandoned, and Comrade went into hibernation in the cave. Sadly, he "somehow" got out and was never seen again.
He attacks and kills zombies, skeletons, and spiders. Comrade does not kill creepers, which is a slight disappointment.
In Episode 14 of Voltz, he escapes out of his cave to kill some spiders.
Ad blocker interference detected!
Wikia is a free-to-use site that makes money from advertising. We have a modified experience for viewers using ad blockers

Wikia is not accessible if you've made further modifications. Remove the custom ad blocker rule(s) and the page will load as expected.