Duncan's Christmas Party is a song by Duncan on the 20th December 2013 on Bandcamp as part of Hark! T'is What Thou Refers To As Yogsmas!. It was posted on the YogscastLalna channel on the 21st December 2013. The song is a parody of 'Merry Christmas Everyone' by Shakin Stevens
Plot and Summary
Edit
The video starts with Duncan calling on Santa's help in preparing for his Christmas Party. The castle was a mess and the flux level was dangerous, Santa arrives and helps clean up. Once preparations has been made, Lewis, Simon and Sjin, join Kim and Duncan at the caste for the party. They all join in eating the food and getting drunk on Duncan's moonshine. However all the moonshine causes everyone to fight and Simon accidentally knocks out Santa.
The day after the party, everyone has a hangover and can't find any Aspirin, Duncan sends everyone home leaving a large mess described as 'The outhouse off SipsCo' The mess included a 'Fat man stuck inside the chimney' which was in fact Santa Claus. The video ends with Duncan panning up and down the Castle wishing everyone a merry Christmas.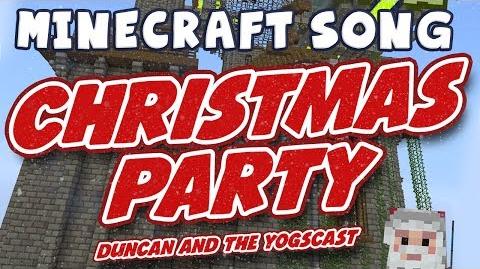 Wisps are forming
All around me
Reckless magic
Is the cause

It's the season
Of Christmas miracles
I need your help, Santa Claus

No more Vis just lots of flux
Cauldron's bubbling, over flowed
Golems gone mad
Trashing my whole castle
Think I've depleted this vis node

I need some help at this festive time
Castle's a total mess,
Friends coming over for some drinks
St Nick help tidy up

Machine is sorting, back in action
Sonic screwdriver, screwing screws
All I wish is, that Father Christmas
Would stop eating, all my food

We're tucking in to my moonshine tonight
The evening's going well
Then St Nick spills' Simon's drink and Simon wants to fight.

Punches flying, all around me
Simon lands one, on Santa's jaw
It's the season of Dwarven drunken brawling
I'm so sorry, Santa Claus
Are you OK? Santa Claus
Simon's knocked out, Santa Claus...

Head is hurting, so hungover
Where's the aspirin, I did groan
Still it's the season, and we had a good night
Merry Christmas, now go hoome

Castles filthy, dirt all around me
Looks like the outhouse of Sips co
And there's a fat man, stuck inside the chimney
Oh my god it's, Santa Claus

Empty bottles, are everywhere
Booze has been spilt, on the floor
That's the last time, I drink so much homebrew
Merry Christmas everyone
Merry Christmas have some fun
Merry Christmas from Drunkan

Ad blocker interference detected!
Wikia is a free-to-use site that makes money from advertising. We have a modified experience for viewers using ad blockers

Wikia is not accessible if you've made further modifications. Remove the custom ad blocker rule(s) and the page will load as expected.