"
Episode 4
" is the fourth episode of the
Uncharted Territory
Campaign for
High Rollers D&D
. It was broadcast live on both the
Dungeons & Dragons
and
Yogscast
Twitch channels on July 21, 2017.
Katie Morrison
is absent for this episode.
In this episode, our heroes attend an auction to obtain the Heart of Ubtao but another party won the bid, leading to a standoff between them and her, as well as Laskilar Flisk.
Campaign Summary
Edit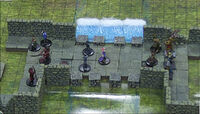 The Bidders
Edit
The Auction
Edit
The Standoff
Edit
Featured Characters
Edit
The Archaeologists
Edit
Appeared
Returning
Edit
Appeared
Mentioned
Notable Moments
Edit
References
Edit
Ad blocker interference detected!
Wikia is a free-to-use site that makes money from advertising. We have a modified experience for viewers using ad blockers

Wikia is not accessible if you've made further modifications. Remove the custom ad blocker rule(s) and the page will load as expected.