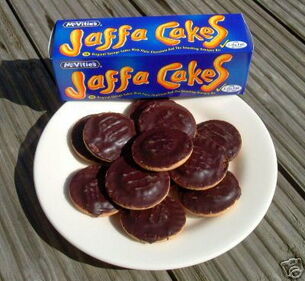 Real World
Edit
Jaffa Cakes are a snack available in the United Kingdom, Serbia, Montenegro, Croatia and Ireland. McVities has confirmed that they are indeed cakes, not biscuits and took this to court in order to put to rest a long-term debate about the matter. The product was introduced by McVitie and Price in 1927 and were named after Jaffa oranges, sweet oranges native to Jaffa, Israel. Their creation is largely credited to John Langlands, a director of McVitie and Price. However, it also is thought the actual originator was an employee, Morton Young, a view his family fully supports.
The Danish biscuit manufacturer Bisca A/S, formerly Oxford Biscuits, produces a line of "cakes" similar to Jaffa Cakes, called "Grazia".[1] The Grazia Cakes are described as "Sponge Cake with 55% Orange Fruit Filling Coated with 17% Plain chocolate," but are also available with raspberry filling.
Serbian manufacturer "Crvenka" also produces Jaffa cakes, in orange and red orange varieties. They have the same name as McVities, and they are distributed in Australia, USA and Balkans.
Jaffa Cakes are also delicious, according to Simon.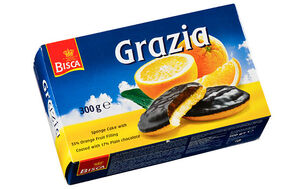 In-Yogiverse
Edit
Jaffa Cakes, sometimes called Joffo Cakes for copyright reasons, are frequently mentioned, as they are apparently Simon's favorite food. He has implied he eats a packet a day, but has expressed concerns that a packet after every meal might be a tad too much. Simon's passionate love for Jaffa Cakes originate from the time when his mother became tired of breast-feeding him and started feeding him Jaffa Cake smoothies instead. He loves orange flavoured jelly. It is likely that one would fantasize about Tina Barrett drenched in Jaffa Cakes, as they are both great things indeed. In Mistral City , there is a giant statue of a Jaffa Cake, nicknamed "The Mighty Jaffa". During "Shadow of Israphel" Part 27: To Skyhold!, Simon references the cookies aboard the ship as Jaffa Cakes. In "The Yogscave" DLC for Sanctum [2], the main objective is to defend the Jaffavault (or Joffovault, due to copyright reasons) from the hordes of hungry attacking aliens.
In the Tekkit series, Simon, Lewis and Duncan are building a Jaffa Cake Factory[3] under Simon's orders. They successfully made their first Jaffa Cake (a re-textured Cookie) after about 88 episodes, and were producing them alongside in-game cakes. They stopped when the server changed to Feed The Beast in episode 93 .
In the Moonquest series the name of Lewis, Simon and Duncan's space program is J.A.F.F.A, which stands for Joint Aeronautical Fantastic Flying Astronauts, but was changed to Honeydew Inc. when they discovered the Jaffa Factory in the same world as Sjins farm
Jaffa Cakes have their own Twitter account: @RealJaffaCakes
There is a cult of Jaffa: http://www.cultofjaffa.com/
Simon packed multiple packets of Jaffa Cakes for sustenance on the Don't Starve Challenge.
You can purchase birthday-style, super-sized Jaffa Cakes.
In Episode 75 of MoonQuest it was revealed that the Yogscast tried to get McVitie's to sponsor them but according to Simon "The [Yogscast] brand wasn't strong enough".
On the 14th episode of The TGS Podcast, Dodger ate a packet of Jaffa Cakes which had a best before date of sometime in the year 1272. Whether this was just a mis-print or the Jaffa Cakes were actually from the medieval age is unknown, nevertheless this goes down as one of the most memorable moments in the podcast's history.
References
Edit