Ollie
was the young canine companion of
Simon
and
Lewis
.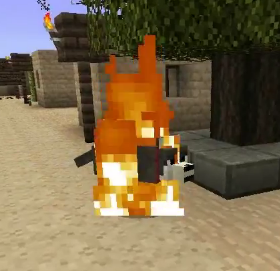 He was the
Minecraft
equivalent of Simon's real-life dog.
He has been referred to several times by Simon, notably on Season 2 of the boys' Minecraft series, where Simon yelped when he got a fright. Ollie could be heard barking in the background, to which Simon remarked, "It's OK Ollie! Can you hear him Lewis? Checking if I'm alright." Ollie therefore seems to be a very protective dog of Simon. He could also be heard at 12:19 in their Planetoids custom map Episode 1. He was killed in Minecraft when he examined a small fire a little too closely during the Season 3 Custom Map: "The Curse of Sunny Springs Part 1 - A Postcard". Simon and Lewis, while finding the scene infront of them tragic, also found it rather hilarious. There was nothing they could do.
Ollie's death may be witnessed around 7 minutes through this video: http://www.youtube.com/watch?v=933JGhpGV_w&feature=sh_e_sl&list=SL
In reality, Simon's dog Ollie now lives with James, Simon's old housemate. When Simon moved out to live with Lewis and Hannah, Ollie stayed behind.