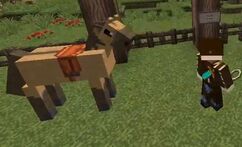 Rusty
is
Lewis
' Mustang horse from the
Simply Horses Mod Spotlight
. As Rusty is a Mustang horse he has a craving for fighting, he can charge and knock-down enemies and can allow bow-sniping from horseback.
Rusty isn't Lewis' only horse, he has another Mustang, two Arabians, two Clydesdales and a fowl.
Rusty resides in Lewis' stable, situated in the Mod Spotlight randomly generated town that Lewis has inhabited.