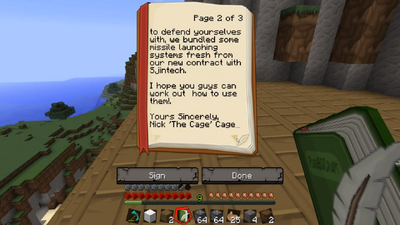 Sjintech seems to be Sjin's independent company based in the Yogscast Voltz server that design various equipment such as missile launching systems.
Nothing more is known about the company, or what affiliation Sips and Sjin have with it.
The only two references to Sjintech so far are, first of all: in the first episode of Sips and Sjin's Voltz, when Sjin said that he used a Sjintech GPS to find the land, and a page in Sips' diary (in Episode 5) from Nick 'The Cage' Cage, Head of  Sipsco Dropoff Packages, that says Sips Co. have formed a contract with Sjintech. The second reference was when Sjin created a new space program in "Sjintech Space Rescue".
Relations:
Edit
Friendly:
Edit
Frenemies:
Edit
Zips (evil clone of sips)
Ad blocker interference detected!
Wikia is a free-to-use site that makes money from advertising. We have a modified experience for viewers using ad blockers

Wikia is not accessible if you've made further modifications. Remove the custom ad blocker rule(s) and the page will load as expected.