The Hand of Truth
is a "pyramid scheme" organisation created by
Hat Films
in the series
Cornerstone
. As a religion, the Hand of Truth was devised so other members of the group would follow Hat Film's order and worship the hand.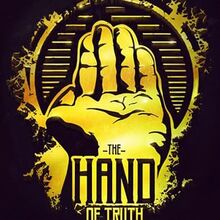 The Hand was reconstructed several times, the first due to destruction by various Yogscast members, and the second due to block incompatibilities when transferring to their Resonant Rise 3 modpack.
The Hand was blown up and smashed by Duncan and Kim. At one occasion, slime blocks were placed on the hand to represent snot.
Sjin blew up the hand.
They ran a court in case any items (such as gold) went missing.
Many believe that The Hand of Truth is a cult, but Hat Films have denied this many times.
Merchandise is available on the Yogscast Store.
Ad blocker interference detected!
Wikia is a free-to-use site that makes money from advertising. We have a modified experience for viewers using ad blockers

Wikia is not accessible if you've made further modifications. Remove the custom ad blocker rule(s) and the page will load as expected.