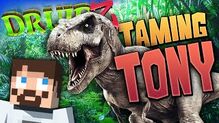 Tony is one of Lewis and Sjin's dinosaurs in their Minecraft series, Druidz. He is a Tyrannosaurus Rex, which means he's smaller than Spiny. Since Spiny has disappeared, Tony is the biggest predator left.
In Yogiverse
Edit
In episode 19 of Druidz, Lewis beat him to eight health and tamed him with a scarab gem, and began riding him all over their base. In episode 24, while Lewis and Sjin were riding him to Duncan and Kim's base, Tony was killed by magic bellthorns.
Ad blocker interference detected!
Wikia is a free-to-use site that makes money from advertising. We have a modified experience for viewers using ad blockers

Wikia is not accessible if you've made further modifications. Remove the custom ad blocker rule(s) and the page will load as expected.