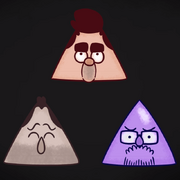 Triforce!
is a gaming and general discussion podcast hosted by
Lewis Brindley
,
Sips
and
Pyrion Flax
. The podcast is posted alongside the YoGPoD and features the trio talking about various ideas centred on gaming but also expand to current topics and sporadic thoughts. The structure of the podcast is fairly loose, with an introduction, miscellaneous topics, a gaming section and a Q and A from Twitter followers at the close of the podcast. Since Episode 20, every episode is finished by a Bodega short story written by Pyrion Flax about Bodega, a space bounty hunter.
The name for the podcast is discussed and created during its first episode, with each part of the name having its own meaning. The "Tri-" refers to the three hosts, "-force" refers to a nickname of Pyrion's, "T-Force", and the name overall representing the podcast's connection to, and discussion of, video games, as the Triforce is a popular symbol from The Legend of Zelda.
The animation for the YouTube version of the podcast was created by Ciaran Askew, as mentioned by Lewis on the 19th April edition of the Weekly Update on the main channel.
The introductory music to the podcast is Catch The Train, by Magnus Ringblom, and can be listened to here.
The three use a private Discord group to communicate and record their voices on their separate computers[1].
Episode Guide
Edit
Triforce
Video Name
Triforce! #1: Sell Your Kids
Watch
Triforce! #2: Civ VI
Watch
Triforce! #3 - Old Fluff
Watch
Triforce! #4: On The Road
Watch
Triforce! #5: Weekly Shop
Watch
Triforce! #6: It Ain`t No Ghibli
Watch
Triforce! #7: That`s Zen For Ya, Baby
Watch
Triforce! #8: Femurs and Funerals [Archive Podcast]
Watch
Triforce! #9: Soulmates and Superpowers [Archive Podcast]
Watch
Triforce! #10: Comments and Corn Syrup [Team DD Archive Podcast]
Watch
Triforce #11 - Sips 420:69
Watch
Triforce! #12: Keep Your Coins In Your Groins
Watch
Triforce! #13: Portage Killer
Watch
Triforce! #14: Eau De Vito
Watch
Triforce! #15: Feeder Week
Watch
Triforce! #16: Hungry Hungry Tanks
Watch
Triforce Animated - Zen Snickers
Watch
Triforce! #17: Waking Up Sexy
Watch
Triforce! #18: Fat Man`s Burger Limbo
Watch
Triforce! #19: Homebrew Fanfiction
Watch
Triforce! #20: Bodega Part Uno
Watch
Triforce! #21 - What Happened to Robert Redford?
Watch
Triforce! #22 - Prepping for Disaster
Watch
Triforce! #23 - No More Micro
Watch
Triforce! #24 - Call Sign of the Triforce
Watch
Triforce! #25 - Good Days Gone By
Watch
Triforce! #26 - Boonos Aires
Watch
Triforce! #27 - Biff, Chip and Floppy
Watch
References
Edit
Ad blocker interference detected!
Wikia is a free-to-use site that makes money from advertising. We have a modified experience for viewers using ad blockers

Wikia is not accessible if you've made further modifications. Remove the custom ad blocker rule(s) and the page will load as expected.