Trucking Tuesday
was a series by
Simon
and
Lewis
on the
BlueXephos
channel, in which they played random (and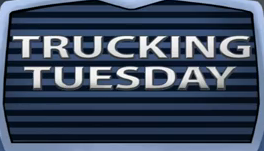 odd) trucking games every Tuesday of the week.
Simon presented the initial idea to Lewis, possibly after playing Euro Truck Simulator 2013 during the Christmas Livestreams; however, Lewis has taken on the series as the organizer and lets Simon do all of the driving. Lewis guides Simon around the map and teaches him how to control the trucks.
The first episode was uploaded on 26th February, 2013 and was entitled "Trucking Tuesday - Tricky Truck". They played a game by the creators of Sumotori Dreams, which Simon and Lewis previously played on their channel.
Episode Guide
Edit
Episode Guide for Trucking Tuesday
The full episode guide can be found here.
The normal introduction to a Trucking Tuesday episode is a logo reading Trucking Tuesday and a distinctive horn.
Sometimes Trucking Tuesday episodes take a while to be uploaded to YouTube, leading to the fact that a few episodes may show that they are posted on YouTube on a Wednesday.
A common feature of the series involved Lewis looking into the camera and declaring,'Trucking Tuesday  everyone', usually after a particularly strange or significant bug emerged.