Velderbann is a hill dwarven town created for the Lightfall campaign of the Dungeons and Dragons series, High Rollers D&D. It is visited in the series from Sessions 41 to 46.
Description
Edit
Velderbann is a hill dwarven town of the Dawn Republic. The nearest settlement is Firstlight, located south of the town. The Grasping Peaks mountain range, where the mines are also located, is an hour walk north from the town.
Backstory
Edit
Session 41
Edit
Session 42
Edit
Session 43
Edit
Session 44
Edit
Session 45
Edit
Session 46
Edit
Demographics & Culture
Edit
Hill dwarf is the dominant race of Velderbann. A tribe of kobolds live underneath the mountains near the town.
Geography & Climate
Edit
Relations & Military
Edit
Friendly turned Hostile
Hostile turned Friendly
Broken Sky, became friendly after it seized control of the town
Notable Locations
Edit
Abandoned Farmhouse
Edit
Abandoned Hunter's Camp
Edit
Captain's House
Edit
Kobold Lair
Edit
Valley Brew Lodge
Edit
Velderbann Mine
Edit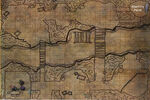 Residents
Edit
Hill Dwarves

Ethan[spelling?], town's spokesperson, Valley Brew Lodge owner and Ela's husband
Ela[spelling?], Valley Brew Lodge bartender and Ethan's husband
Rolo[spelling?], grandfather dwarf
Two unnamed child dwarves
Unnamed grandfather dwarf
Unnamed grandmother dwarf

Kobolds

Captured

Broken Sky
References
Edit
Ad blocker interference detected!
Wikia is a free-to-use site that makes money from advertising. We have a modified experience for viewers using ad blockers

Wikia is not accessible if you've made further modifications. Remove the custom ad blocker rule(s) and the page will load as expected.