World of Warcraft
Comments

2
7,753pages on
this wiki


World of Warcraft, often referred to as WoW, is a massively multiplayer online role-playing game (MMORPG) by Blizzard Entertainment, a subsidiary of Activision Blizzard. It is the fourth released game set in the fantasy Warcraft universe, which was first introduced by Warcraft: Orcs & Humans in 1994.
World of Warcraft takes place within the Warcraft world of Azeroth, approximately four years after the events at the conclusion of Blizzard's previous Warcraft release, Warcraft III: The Frozen Throne. Blizzard Entertainment announced World of Warcraft on September 2, 2001. The game was released on November 23, 2004, on the 10th anniversary of the Warcraft franchise. The first expansion set of the game, The Burning Crusade, was released on January 16, 2007. The second expansion set, Wrath of the Lich King, was released on November 13, 2008. The third expansion set, Cataclysm, was released on December 7, 2010. At BlizzCon in October 2010, lead producer J. Allen Brack announced that there would be a fourth expansion set for the game, which is Mists of Pandaria.  With more than 12 million subscribers as of October 2010, World of Warcraft is currently the world's most-subscribed MMORPG, and holds the Guinness World Record for the most popular MMORPG by subscribers. In April 2008, World of Warcraft was estimated to hold 62 percent of the MMORPG subscription market.
In-Yogiverse
Edit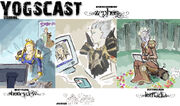 For the Yogscast, the channel on YouTube was basically founded as a WoW based video provider, and further games were later added on (Check here ). Taking part in World of Warcraft: Cataclysm BETA testing, the Yogscast ventured into a new world in which they faced Dragons, Elementals, and flying Bears. Checking out many zones, Honeydew (Simon) got himself into a lot of mischief and Xephos (Lewis) joined him, through dungeons, Heroics and eventually raids.
Xephos in WoW
Edit
On his Ye Olde Goone Squade profile, Xephos's World of Warcraft character is listed as "Zephos," playing on TheVenture Co. server in the "Guild of Mearis".
Honeydew in WoW
Edit
On his Ye Olde Goone Squade profile, Honeydew's World of Warcraft character is listed as "Honeydew," a Human Paladin playing on the Venture Co. Server.
Honeydew also has a Dwarf Hunter character called "Honeybeard".
Sjin in WoW
Edit
In the "About" section of the Ye Olde Goone Squade home page, a history of the guild is given, in which "the Night Elf Hunter Sjin" is mentioned under the heading "Past Achievements". [7]
Apparently, Sjin was a member of YOGS and became the first "Grand Marshal" on the Venture Co. Server. Because of this, it seems he garnered considerable respect in the guild, as shown in a comment by the user "Bumblina" on the YOGS forums:
Re: Ayumiq, Huntress of Wrath
« Reply #25 on: April 14, 2013, 12:25:56 am »
Quote from: ayumiq on April 13, 2013, 02:55:34 pm
I am the most popular played char of all time in wow
SHUT THE FUCK UP AND STOP TRYING TO BE SJIN.