The Yog-Olympics is a Yogscast Minecraft event that occurs every four years, like the normal Olympics. It is rumoured that the event was created thousands of years ago by the first human beings, however this has yet to be proved. The most recent Yog-Olympics were carried out on August 10th 2011. The course was designed and built by Dave Chaos. The only contestants this year were Simon and Lewis, although no other contestants were needed. Dave Chaos also performed the roles of starter, judge and award-presenter in every event.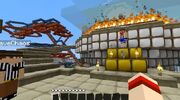 Before the games can begin the Yog-Olympic torch has to be lit. The torch was lit by Simon in the 2011 Yog-Olympics. The map the games take place on includes events specifically made for playing in Minecraft. The events are:
Dodgit, where the goal is to knock your opponent off a ledge by pressing buttons that activate pistons, avoiding similar pistons in their control.
Pig Rodeo, where contestants navigate a track on a pig, propelled by water.
Swimming, where contestants press switches scattered underwater to raise a piston.
Kayak, where contestants navigate a track on a boat.
Racing, where contestants navigate a track in a minecart, while attempting to hit scattered buttons to give them speed boosts.
Sumo, where the goal is to be the last man standing on anarrow ledge of wood, having pushed the opponent off.
Climbing, where contestants navigate a tricky ladder course.
Archery, where contestants fire arrows to try to hit a target's bullseye.
Obstacle Course, where contestants are faced with a series of obstacles that they must navigate.
And finally, SPLEEF, a popular Minecraft sport, in which two contestants face off on a suspended platform with the aim of digging the ground out beneath their oppoennts feet and cause them to tumble to their death, while avoiding a similar fate. The Yog-Olympics spleef was held within a giant mountain that towered above the rest of the event areas. The loser fell into lava, but was brought back for the medal ceremony.
In total there are 10 events.
The Yog-Olympics map can be downloaded here.