Diggy Diggy Hole!
This article is under construction and being worked on. Have information to share that is not already present? Feel free to edit this page!

Respect Privacy! The location of YogStudios is not currently known to the public. CEO Mark Turpin has confirmed the location of YogStudios will be made available when the offices are complete, as the building will serve as a creator space for other content creators outside the Yogscast Network also.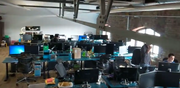 YogStudios (aka YogTowers 2) is the new headquarters of the Yogscast. The company moved out of their old offices, known as YogTowers, in June 2017 as the owners of the building planned to convert them into flats. The new studios feature the latest in audio and internet capabilities, as well as many quality-of-life features for the team. It has also been revealed that the Yogscast intend to open up these new studios to other YouTubers & Twitch Broadcasters by allowing them to rent a room to produce content, regardless of whether they are part of the Yogscast Network or not.
Some of the features of the new studios include; combination fingerprint recognition/phone scan/pin code door locks, iPads on recording room doors for booking purposes, sit-stand desks, ethernet audio, games console capture devices, and an instant hot water tap.
Turps revived the series YogTours to document the move from the old offices to the new studios.
The name YogStudios reflects the fact the new building is designed to be a space with content creation at its heart, while also paying homage to the name YogTowers. The name seemed to stick quite quickly, with Turps referring to the new offices as YogStudios in his YogTours video description [1]
YogStudios is not to be confused with "Yogscast Studios", the title of the Yogscast's bandcamp page.
References
Edit
Ad blocker interference detected!
Wikia is a free-to-use site that makes money from advertising. We have a modified experience for viewers using ad blockers

Wikia is not accessible if you've made further modifications. Remove the custom ad blocker rule(s) and the page will load as expected.