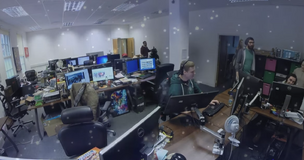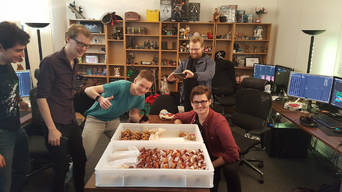 YogTowers is the main offices of the Yogscast, and is located in the city of Bristol in South West England. The Yogscast PO Box address is: The Yogscast, PO Box 3125, Bristol, BS2 2DG; as listed in the information of every new video on the Yogscast Simon and Lewis' channel, and on The YoGPoD Facebook page. The office has been featured in many videos and streams since it was first established in 2012, most notably during the 'Office Cam' livestreams during the 2016 Jingle Jam.
Speculation About Location
Edit
As of yet, there has been only one public opening of the YogTower offices, and the exact location of the building has not been revealed to the public. This opening was for a competition run on both Kim and Martyn's channels. It was in association with EA- the prize being to go and record gameplay of Plants vs Zombies Garden Warfare 2 in the office. The winners of this competition were named: Oscar "the wild", Grace "the graceful", "mental" Maddie, Sam, and Jess.
Yogscast Members Currently Working at YogTowers
Edit
Disclaimer: This is not an exhaustive list, only known members are listed.
YogTowers is apparently very cold, as Hannah mentions numerous times in Hannah's Advent Calendar videos.
Until 2012, YogTowers didn't exist. However, Simon and Lewis referred to it in their podcasts and videos, pretending that they worked in a huge tower where they made their videos. Until 2011, none of the Yogscast lived or worked together, but in 2011 Simon, Lewis and Hannah got a house in Reading together which they shared. Before this, Lewis and Hannah may or may not have lived together, but Simon didn't live with any members of the Yogscast.
In Strippin Says! Robbers and my Balls, Strippin reveals that a few days prior to the making of that video, the office building where YogTowers is situated in was robbed. He was working inside at the time, and believed the intruders to be ghosts.
The name "YogTowers" was first conceived by Simon in part 1 of his and Lewis' walkthrough of the Fishing dailies in World of Warcraft that were introduced in the game's third expansion, Cataclysm.
In early 2016, the Yogscast rearranged their office space and many personal offices were moved into an open office-style layout[1], with separate rooms for storage, content creators, editors, a common room and kitchen. Lewis and Simon no longer have their own offices and share the open-office area.
The YogTowers open-office area was widely shown off during the Jingle Jam 2016 Livestreams as 'Office Cam'.
References
Edit
Ad blocker interference detected!
Wikia is a free-to-use site that makes money from advertising. We have a modified experience for viewers using ad blockers

Wikia is not accessible if you've made further modifications. Remove the custom ad blocker rule(s) and the page will load as expected.